For about a year there, the Ultimate Fighting Championship Promotion "UFC" had MMA by the throat. With the Strikeforce Promotion and World Extreme Cagefighting "WEC"in its pocket, Dream dead and Bellator Fighting Championships still struggling for attention on MTV2, there was nothing out there to keep the UFC from signing whoever they wanted, scheduling events whenever and wherever they felt and naming their price with sponsors.
You could see it distinctly with fighters and other promotions alike. Look back to October when Damarques Johnson, a fighter the UFC repeatedly threw to the wolves before finally throwing overboard,  apologized to the promotion after they wrongly released him. Promotions like the Resurrection Fighting Alliance and Invicta Fighting Championship were  lining up to serve the UFC as "feeder leagues."
As recently as a few months ago, the UFC was an entity that you simply didn't cross, no matter who or what you were.
Recently, however, something has changed. The reverence and fear of the UFC seems, at least a little bit, to be fading from the sport.
Popular sponsor Pretorian may have opted out of the UFC business.
The unsung power players of MMA, the major sponsors, have been more and more willing to take their ball and go home, rather than play by the UFC's rules. Whether it's niche clothing company Pretorian, who somehow got the UFC grumpy enough to  ban their wares from events, or a major brand like Reebok, who seem to be saying to the UFC  "You'll come to our home turf".
after their gear was kept out of prior shows, noteworthy sponsors are not falling in line as quickly or willingly as they once seemed to.
Other promotions like Bellator MMA, One FC and WSOF are far more willing to enter a bidding war with the UFC. Keep in mind how much of a shock it was among the hardcore MMA audience a year ago when Bibiano Fernandes ended up spurning the UFC, whose signing seemed so certain they actually already began  promoting his debut with the promotion before he put pen to paper.
This now seems to be a trend in the MMA world, as we have seen fighters like Tyson Nam and Cheick Kongo turn down UFC offers to sign with other promotions. That, by the way, is just among fighters that are on everyone's radar – that doesn't even take into account any of the true, young prospects around the world that can now actually haggle with suitor's. Most tellingly is how fighters, the group of people most at Zuffa's mercy, have been more and more willing to burn bridges with the world's largest promotion. From the superstar Quinton "Rampage" Jackson, to the well-established Jon Fitch,  to that guy whose name rings a bell, Jacob Volkman, down to the also-ran John Cholish, fighters at all stages in their career seem to be willing to tell the UFC where, exactly, they should stick that pink slip.
So why is this?
For fighters, the reason is relatively obvious. These days, there are a slew of promotions willing to spring for recognizable fighters.
While many would be quick to point out the rise of Bellator and WSOF, that does a disservice to how huge the international MMA scene is these days. Singapore's One FC, Poland's KSW, India's SFL, South Korea's Road FC and Russia's M-1 are all capable of cutting checks comparable to what the UFC pays their mid-tier fighters, and offer incentives to make it worth sticking around once your name starts hitting ears abroad. For established fighters in those organizations, like Mamed Khalidov and Masakatsu Ueda, this basically removes any real reason to join the UFC, who offer no clear path to main card slots, never even mind big-money title shots.
Meanwhile, WSOF and Bellator offer a pretty comparable deal for UFC castoffs. While there isn't as much room for growth, fighters like Jon Fitch, Matt Riddle, Anthony Johnson and Jacob Volkmann can make a fairly comfortable living atop smaller promotions' cards (and, in many cases, these guys are now earning more money than other, more successful UFC veterans).
That simply adds up to the UFC not having the leverage that they did in 2011 and 2012, when they had Strikeforce in their pocket and (seemingly) had their pick of the litter following the death of Japan's top promotion, Dream. While they are still able to attract essentially all of the top fighters in the world (look no further than how hard Eddie Alvarez is  fighting to leave Bellator for the UFC), that is a label that doesn't apply to all that many.
What of the sponsors, though?
In the Reebok situation, it's a much-needed slice of humble pie for the UFC. WhileZuffa is by far the biggest name in MMA, and has survived in a world defined by companies' inability to stay afloat, they are a small fry for Reebok (a subsidiary of Adidas), who has dealt with the likes of the NFL, NBA and NHL. While the UFC has been able to call the shots with companies like Dethrone and Affliction, Reebok is on a totally separate level.
This is likely to continue into the future. With the exception of Bud Light, the UFC has almost exclusively dealt with smaller sponsors such as Affliction, Mickey's Malt Liquor and Corn Nuts. As the UFC grows, so do their sponsors, evidenced perfectly by the advertisements for Disney's "The Lone Ranger" on the posts at UFC 161.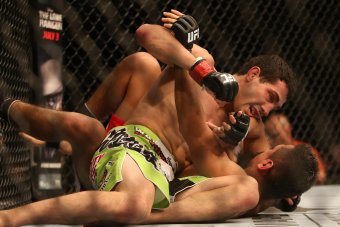 The UFC is now dealing with sponsors who will also be shopping around the NFL, NBA and NHL.
Tom Szczerbowski-USA TODAY Sports
For an entity like Disney, that is just a drop in the ocean of a huge marketing blitz, just like how UFC on Fox 5 ended up being the first hint of the massive push for Quentin Tarantino's "Django Unchained." While having "Affliction" sprawled across padded leather is a sizable chunk of the clothing line's marketing budget, and losing that steady presence can be downright devastating, the powerhouse sponsors the UFC is beginning to attract wouldn't even flinch over missing such an opportunity.
This, ironically, shows just how big the UFC has gotten. The money spent to put an ad on the Octagon could have gone to, say, a commercial during the Stanley Cup Finals, or a billboard in PETCO Park. Those are the entities that Zuffa is now competing with.
Last but not least is promotions' sudden willingness to go toe-to-toe with the biggest show on the block.
While there is a bit of doom-saying in terms of the direction of MMA's growth based on Nielsen Ratings and PPV buy rates, that exclusively discusses how MMA is doing in the United States. There is just no denying that MMA is skyrocketing internationally.
The evidence of that is there both in terms of the simple fact that more promotions are popping up across Europe and Asia, as well as the UFC's scramble to enter those markets with targeted shows and willy-nilly seasons of The Ultimate Fighter. Stateside,Bellator has been actively appearing outside major markets to host shows.
As MMA grows, the UFC's market share does not necessarily grow proportionally with it. Make no mistake, though; Zuffa still handily owns the vast majority of the MMA world, and that remains very unlikely to change unless something unforeseen happens.
While the UFC's grip on the sport may not be as tight, that is simply because what it's holding is bigger than it was before.
Story courtesy of bleacher report.com